La Maltese Villas
Perched on the hills, on Santorini's beautiful East Side and the gorgeous village of Imerovigli, La Maltese Villas encapsulate the pure essence of high-end living in their brilliantly appointed interiors. The complex comprises of three impeccable villas enjoying the most majestic views to the Aegean sea and Santorini's breath-taking sunrise. Each maisonette-style villa has been designed in respect to the island's signature architecture offering incredible indoor and outdoor areas for everyone to enjoy. Guests are welcome to start their day in the privacy of their terrace while enjoying the calm and serene surroundings and spend the rest of the day bathing in the sunlight while reading their favourite book. As the day unfolds and becomes warmer and warmer, a refreshing swim in the pool is the perfect choice to avoid the heat and relax in view of the infinite Aegean with a cocktail in hand.
Equally dreamy the inside of the maisonette has been decorated in natural colour hues with black and white adding some vibrancy to the overall atmosphere. Guest are invited to relax in splendour, take a nap in their comfortable bed, unwind on the sofa watching a movie or savour incredible dining choices prepared by the chef of Buddha Bar Beach in the stylish dining area. For the most adventurous souls there is always the option to explore the majestic surroundings, follow the trekking path to the picturesque village of Oia or embark on fun-filled excursions around the island. The vibrant night-time scene of Fira nearby welcomes visitors to enjoy a great array of restaurants and bars and take part in all the action as well as Santorini's renowned nightlife.
Offering their beloved guests' moments of pure indulgence, La Maltese Villas are the perfect choice for couples, friends and families with children wishing to enjoy the ultimate Santorini experience.
Distances
Airport 8,5km
Port 11,0 km
Beach 5,5km
Fira center 3,4km
Ia Village 7,4km
Imerovigli Center 1,0km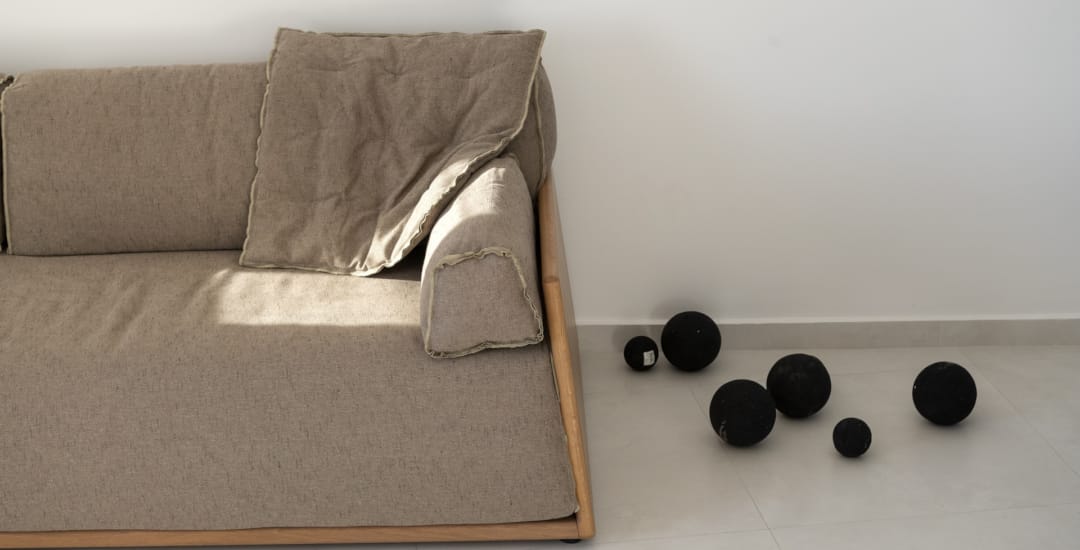 Deluxe Apartment with Sea view
Utterly seductive, the Deluxe Apartment with Sea view an idyllic retreat for your holidays in Santorini. The inspiring décor, elegant furnishings and modern comforts create an aura of luxurious comfort for travellers seeking for an accommodation beyond the ordinary. In a graciously appointed area of 120 square meters, the Deluxe Apartment offers a Queen Size bed and 3 sofa beds, a stylish living room and dining area, two bathrooms with shower and a WC, a private balcony for hours of serenity and calm and a sharing swimming pool for refreshing swims in view of the Aegean and the crimson painted sky. Ideal for families or a group of friends, this charming maisonette can accommodate up to 5 guests.
Villa Facilities
120sq.m
Sleeps up to 5 guests
3 sofa beds
1 WC
Living Room
Dinning Area
1 Queen bed
2 Bathrooms with shower
Private Balcony
Sharing Swimming pool
Private Parking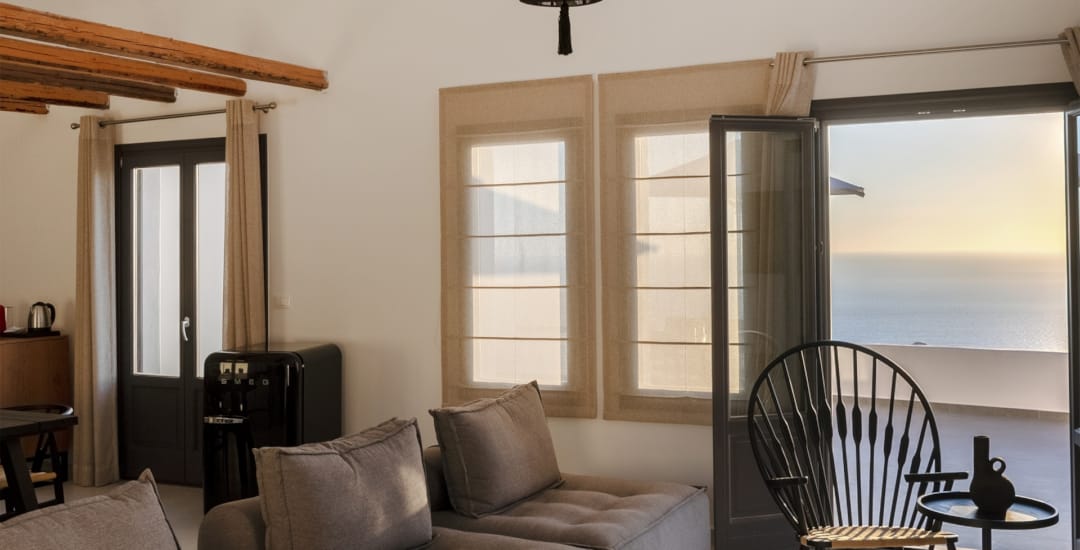 La Maltese Grand Villa Sea View
Enveloping a gracious area of 400 square meters La Maltese Grand Villa is a complex of three Deluxe apartments that welcomes guests to surrender in an atmosphere of refinement whilst enjoying a wide array of modern-day comforts. A private hideaway of comfort and intimacy for a family or group of friends.
La Maltese Grand Villa features 5 Queen size Beds, a living room with fireplace, charming sofa beds, dining areas, 6 bathrooms with shower and 3 WC. A private terrace overlooking the azure of the Aegean Sea with alfresco dining areas. At the swimming pool guests can enjoy a refreshing swim with views of the breath-taking Aegean Sea and sunrise. The Villa can accommodate up to 17 guests
Villa facilities
approximately 400sq.m
Sleeps up to 17 guests
Living room
Dining area
6 Bathrooms
3 WC
7 Sofa beds
5 Queen beds
Walk in closet
1 Terrace
3 Private Balconies
Private Swimming pool
Parking Area
Services
Daily Maid Service
Basket Breakfast served in the privacy of your Balcony
Concierge Service
Daily Pool maintenance
Newspaper